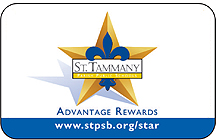 Anchor Home Group is a proud partner and service provider of the St. Tammany Parish Public School System.
Through the St. Tammany Advantage Rewards Program (STAR) we provide exclusive discounts to home BUYERS and SELLERS in recognition of their hard work and dedication to the children of St. Tammany Parish.
School System employees and retirees are able to get discounts by showing their STAR Card and School System or School ID when a client commitment agreement is signed.
BUYERS
Receive $400 toward a home warranty
$100 gift card toward moving expenses at closing
SELLERS
1% Off listing commission
$200 towards professional interior cleaning
FREE staging consultation
Contact us today to take advantage of these wonderful discount exclusively provided to the employees of the St Tammany Parish Public School System.
985-285-4940 or cara@anchorhomegroup.com